The house is quiet and dark, except for the calm flickering and crackling of my Woodwick candle and the hum from the washer. What beautiful sounds! My empty cup of spearmint tea sits next to the beautiful roses Eric bought me. How I love early mornings! How refreshing they are! Today though, I may crash by the time everyone is ready to wake up because Daniel woke me up at 4 AM! Even though he quickly fell back to sleep, my mind has been racing. Racing with Sunday School ideas, curtains for the church I'd like to have made, summer guests...there is so much excitement!
Church has been going well. Sunday we had 8 in Sunday School! Two girls have started coming specifically for English lessons, which I started when I heard they would be allowed to come for that. The lessons were cancelled this Sunday though as we had no heat! We were all too cold by the end of services to have English lessons. The electricity has been really bad lately. That particular day it was off from midnight until around 4:30 Sunday afternoon, then off again a few hours later. Boy was it COLD! Since then, it has gone off almost every day, but only for a couple hours. We thought about cancelling services Sunday, but decided to have them anyways. Besides being cold, we had a very good Sunday. We have started using the puppets in Sunday School. It is amazing how quiet the kids sit through the puppets! During the kids Sunday School, Eric teaches the adults without a translator. This particular Sunday he was so animated that even the kids wanted to pay attention to his class! ;) I guess he has to do something to keep the adults from looking at the puppets. hehe! A curtain will be going up soon between the sections.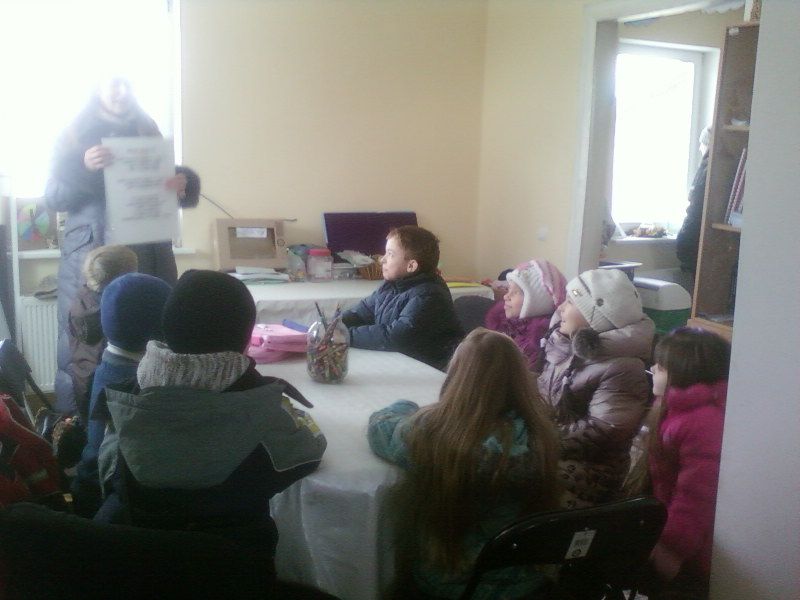 Forgot my camera, but Eric had his phone handy. :)
The household has been moving pretty smoothly lately. We finally posted a schedule and though we don't always go exactly by it, it has helped a lot. Eric wants me to print one for him now too. :) Anna has been such a BIG helper. If I get her started, she does a good job at washing the dishes. Now she has even started washing some of the "big" dishes for me! AND she thinks it's fun! Lydia still sweeps around the table, but needs a little more instruction and Sammy is willing to help with anything. He clears the table, takes the laundry out of the washer and usually helps me hang it. And Daniel, well he can usually be found in the room that I just organized - reorganizing.
Doesn't he look like a little rascal?
They look SO guilty! And they should...they just dumped the cushions and stuffed toys on the floor!
For school we are using the Abeka DVDs. At first I HATED the idea of using these. I felt (either of myself or of others, I do not know) that it wasn't really homeschooling - just an easy way out. I spent hours, days, researching different materials and was thinking about mixing different things. When I approached my husband, he pretty much said that if I wanted his support/help in homeschooling then I would use the Abeka DVDs. Wow! All that time I wasted! I should have just come to him first! I already knew that he was interested in them, but I guess I didn't listen good enough. So I decided to follow him. He is the head of the home and I definitely wanted his backing with schooling. Still, the first week or so I HATED the DVDs. I felt like they weren't helping me any and I was just sitting there watch someone else teach my daughter. I found that I had not fully submitted or surrendered my will. After giving my attitude to the Lord, I have found that my husband truly was right-it has been a huge blessing and help. It has taken the burden of planning off my shoulders.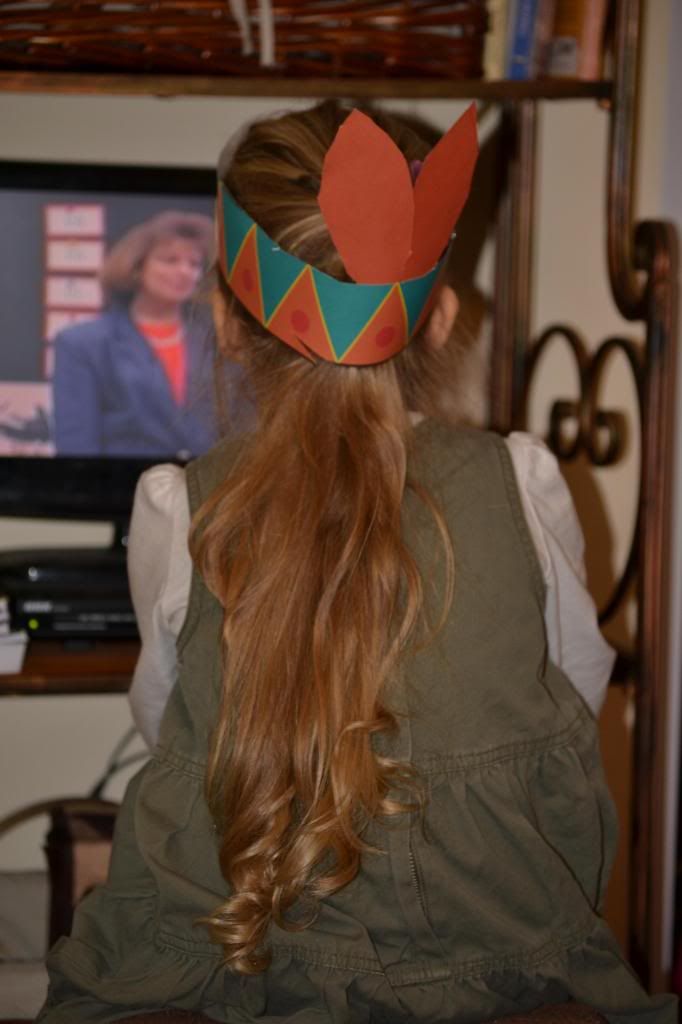 But, at least for me, it is not completely hands off. Anna and I love pausing, fast forwarding or completely turning the DVD off for a class while we "do it together". Writing class is almost always this way. We have had fun making the program our own. I think it doesn't matter what curriculum you use, there will always be something you want to change. I thought about cutting out the Bible class as we already do Bible, that would take away 45 minutes to 1 hr., but I really don't think she can get too much Bible. And the entire day really doesn't take that much time, 1 1/2 hrs maybe 2hrs max. There is so much more time in the day for other ways of learning. Now that I am pregnant again, it has helped even more as Anna can pretty much do her lessons by herself on days when I am sick or have doctors' appointments. I have folders that I put her work papers in under the table. I usually try to set that day's folder out for her and all she has to do is pull out the paper. I switch the papers out on Fridays.
Lydia and Sammy made headbands too. As you can see, we are a little behind in our schooling because we didn't do much school on furlough. Just enjoyed time with family

and friends. :)
I have more I want to write but my time is up. Lots to do today - Bible lessons then church tonight. Nastia, the young lady we are doing Bible lessons with, also asked for piano lessons. We may be starting that tonight too.