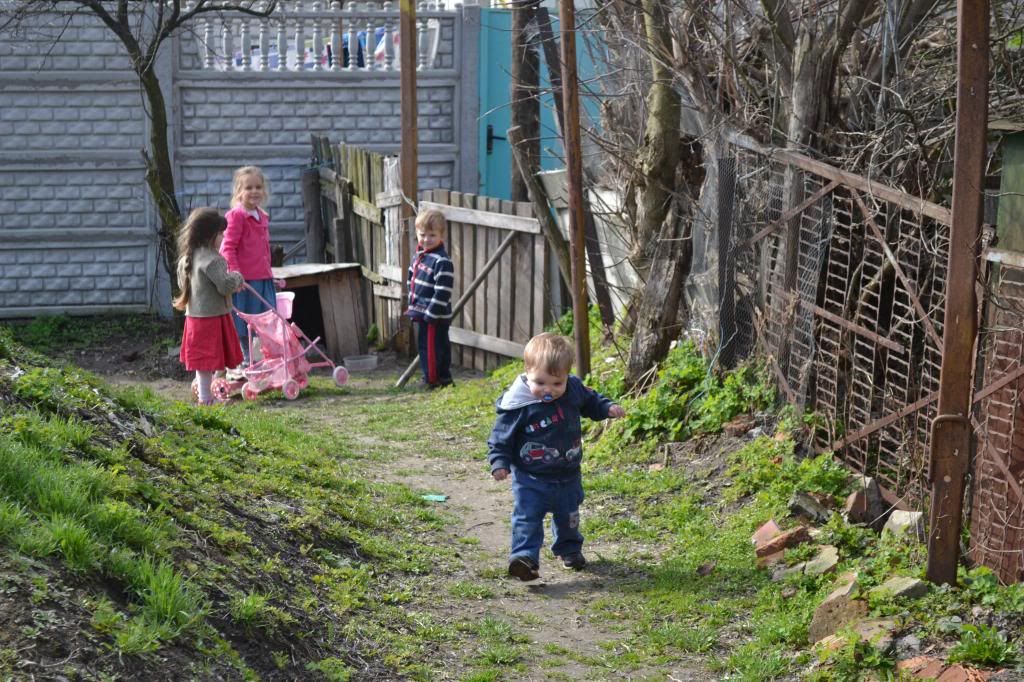 Except Daniel, he came back t

o get me instead of waiting. ;)
Ahhhh. Quietness! That has been extremely rare in our home lately! Except for RARE occasions, the kids have been waking up before 6:30. This morning, the boys were awake before 6! I am usually awake, but oh! How I long for quietness, especially in the mornings! The past two days they slept until 7! I got SO much done!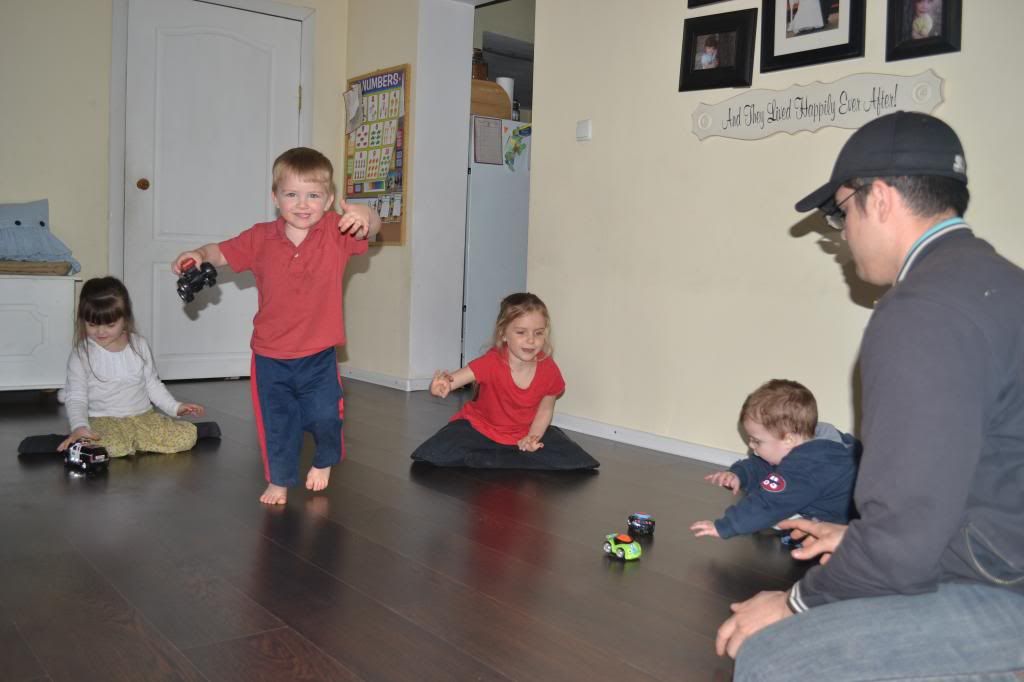 The kids enjoyed playing in the big open space while we were waiting for the new couch.
Using the new car that Grampy and Grammy Curtis sent. :) Thank you!
When we are not outside working and enjoying the beautiful weather, I have been trying to organize and rearrange the house to make it feel more spacious. I feel almost desperate about it...maybe because I know we'll be adding another member to our tiny home soon. I also have a hard time with clutter...which I can never seem to get rid of. Eric is SO good and understanding about it! He just bought a new couch for the living room, which really opens up the room, giving us not only more space but more storage too! Next is a bookcase to do something about all of these books. Our old couch was huge and definitely didn't fit this space. At first I felt so guilty about getting a new couch, but I LOVE it! Our old couch, which we bought 6 years ago for our first SPACIOUS apartment, is in the boys' room. We had to take the arms off to get it to fit, but it fits! Now Sammy has a bed instead of a mat on the floor. :) I think I have spent all my "free time" since we returned to Ukraine rearranging and organizing...which is a big reason why I still have not posted a video of the house, Mom C. Hopefully soon.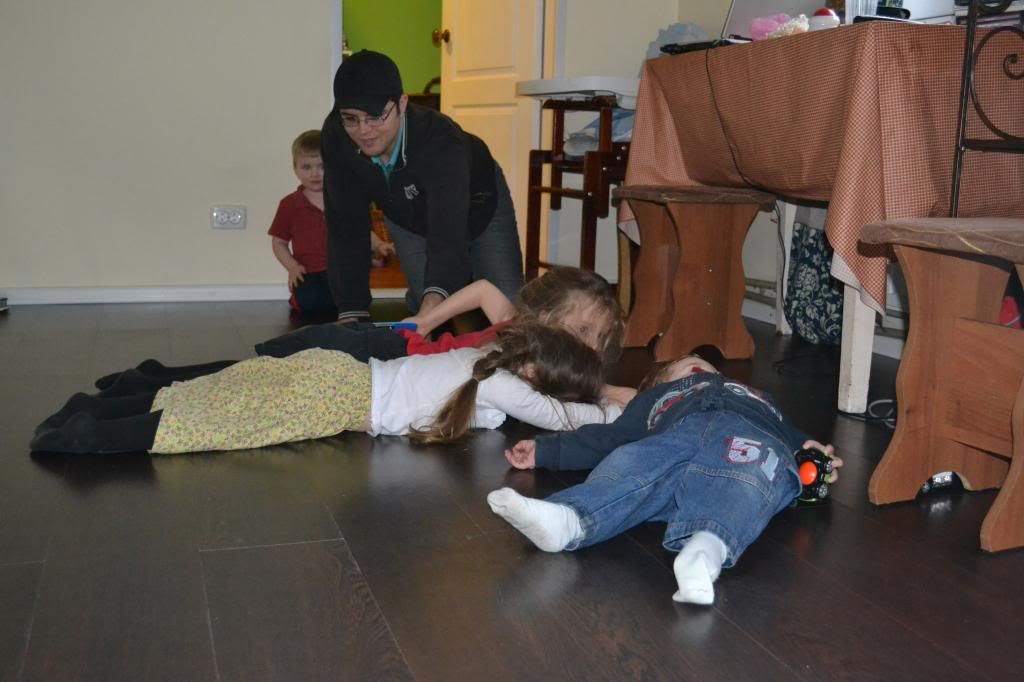 Daniel wanted to be a part of it too.
I'm having a hard time finding time to post. We have so many Bible lessons, house visits (and hospital visits this past week)...that all of my free time is spent just trying to keep up with household chores and school. The few times I have sat in front of the computer to type something I've fallen asleep. I use to type in the mornings before the kids woke up, but I have been using that time to get ahead with meals and cleaning since we have been gone so much. We've also started working on the garden. YAY! I was seriously considering not attempting one this year, but Eric has been excited about expanding it, so now I've caught planting fever.
Sundays have been busier than usual lately too. Not only do we have our services and meal, but we have been doing a Bible lesson after services too. Nastia and Masha (the neighbor girls Anna always asked prayer for) have been faithfully coming to church. I absolutely LOVE watching Masha when we come to pick her up in the van! She gets so excited when we pull up in front of her house. Every Sunday they are waiting in the yard. As soon as she sees us, she starts bounding, practically flying, down the pathway. I always wish I had my camera! I'm sure it wouldn't even do the sight justice. Bogdan and Nikita have been pretty irregular. It has been a long time since Bogdan has come. Please continue to pray for this family. Their family situation is so sad.
Putting together a puzzle from our friends, the Clough family, in

America.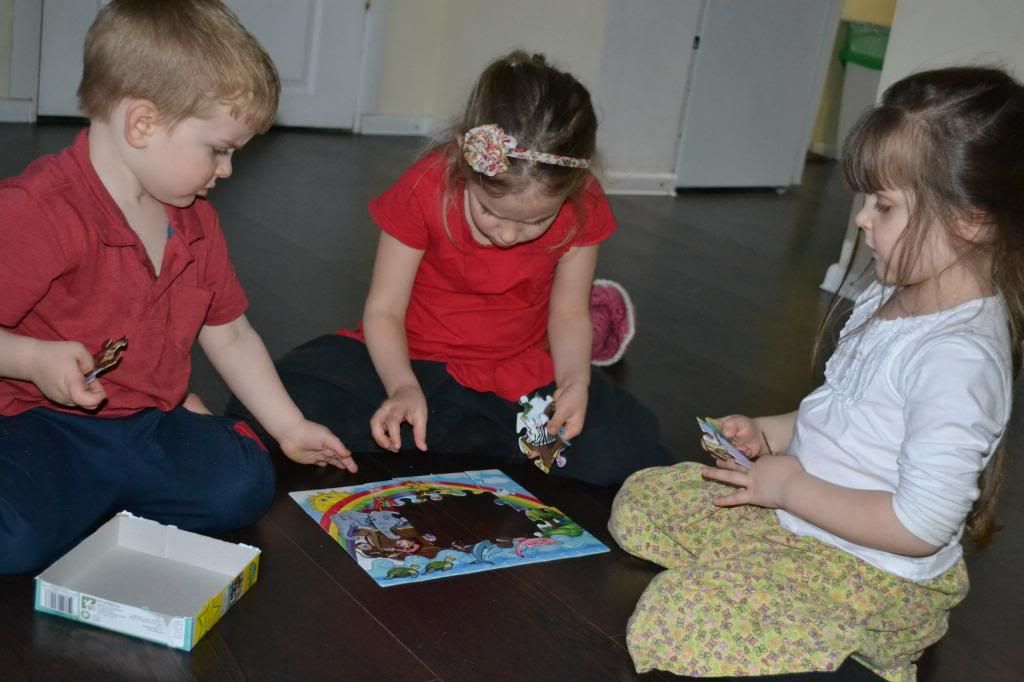 As you can see from the pictures

, it's been like Christmas here at our house.
We had 2 boxes come last week!
Tomorrow I am supposed to be going to the doctor's again...never my favorite or most relaxing thing to do. After that, we will be having Vasily and Sveta over for supper. I prefer to be home on days when we are going to have company, but oh well. Thankfully, I have the meal planned out in my head and it should all work out. Friday we will probably be going out with Eric to pass out Resurrection tracts...unless Daniel is sounding worse. He has had a terrible cough lately.
I apologize for the flightiness. It seems like the more pregnant I am, the more flighty I become. Only 3 months left to go!